IGNOU Student Login with enrollment number, username and password to view their assignment status, grades, results and academic progress.
Indira Gandhi National Open University (IGNOU) offers a variety of undergraduate, postgraduate and diploma courses, IGNOU has made all the services online to provide more convenience to its students. Students need IGNOU login to know all the activities related to their program. In this article, we will discuss all the steps related to the IGNOU login process.
IGNOU Login Portal
IGNOU (Indira Gandhi National Open University) is at the top in India in providing distance education. IGNOU student have to use IGNOU Login portal for all their activities. Students registered through this online platform will be able to access all the services of IGNOU.
IGNOU Student Login
After registering in IGNOU, students can access the IGNOU student login portal. You can access a number of services, including course materials, assignment submissions, exam forms, hall ticket downloads, and result alerts, once you have logged in.
Keep in mind that the university will provide you your enrollment number and password when you apply for admission. If you can't remember your password, you may reset it by clicking the "Forgot Password" link on the login page.
You can ask for help from the IGNOU student care center if you run into any problems logging in or accessing your account.
IGNOU Student Login with Enrollment Number
The renowned IGNOU, or Indira Gandhi National Open University, provides a variety of courses in many subjects. Students can access their academic records, exam schedules, study resources, and other crucial information through the institution's student portal. Students must log in with their enrollment number in order to access the IGNOU student portal. The procedure for IGNOU Student Login with enrolment number will be covered in this blog.
How to login IGNOU portal with enrollment no.
The first step is to go to www.ignou.ac.in, which is the IGNOU's official website. Go to the "Student Zone" option in the navigation bar once you are on the homepage.
After clicking "Student Login" from the dropdown menu "Student Login" page will open.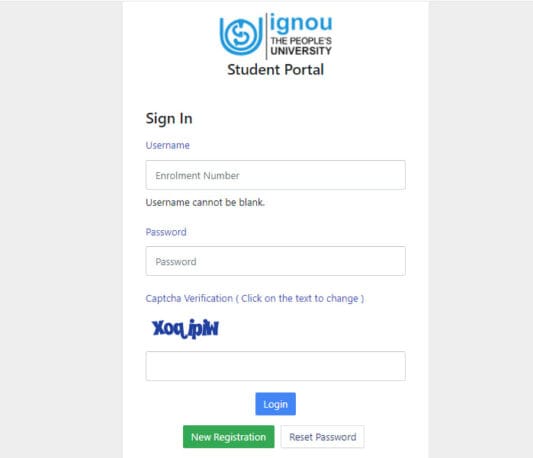 Here you enter the 10-digit number which was received at the time of enrolment. Access the portal by entering the password as well.
IGNOU Student Login with Control Number
Students at the university have access to their academic records, study materials, exam schedules, and other crucial information through a student portal. Students must log in with their control number in order to access the IGNOU student portal. We'll talk about the IGNOU student login with control number procedure in this blog.
Check Assignment Status from IGNOU Login
IGNOU students have to submit their course related assignments every year. Indira Gandhi National Open University provides the facility of IGNOU student login assignment status portal to its students to track the assignment progress. From here students can check the status of their assignments. Check Your IGNOU Assignment Status From This Link
IGNOU Student Login Result
Students can view their results for various courses and exams using the IGNOU student login result system, which has a straightforward and user-friendly design. Students must check in with their enrolment number and birthdate in order to obtain their results. They can examine their grades, percentage, and total performance after logging in. Login to IGNOU Result from the given link
Conclusion
IGNOU login is a crucial component of the university's online platform, to sum up. Access to a variety of resources and services, such as course materials, exam registration, fee payment, and course enrollment, is made possible for students. However, when attempting to access their accounts, students could run into a number of problems. The advice provided in this post will help students get past these obstacles and fully utilise the advantages of IGNOU login.
IGNOU Student Login 2023 – FAQ
What is IGNOU
IGNOU means Indira Gandhi National Open University, IGNOU University provides distance education.
Is it necessary to login on IGNOU
Yes! IGNOU login is required for activities like your admission, re-registration, assignment, result etc.
What are the typical issues encountered when logging into IGNOU
Forgotten passwords and technical difficulties are a couple of the frequent login troubles.